The Art of Creating Magical Slumber Parties
LollapaSnooza is a unique slumber party rental experience that transforms an ordinary sleepover into an enchanting escapade that every child will remember. Watch your child's delight when they discover that she'll be hosting her friends for an unforgettable evening of magic, or the pride in his eyes when his buddies behold the awesome adventure that awaits. Best of all, LollapaSnooza does all the work for you—converting any indoor or outdoor space into a magical dreamscape focused on one of our evocative sleepover themes.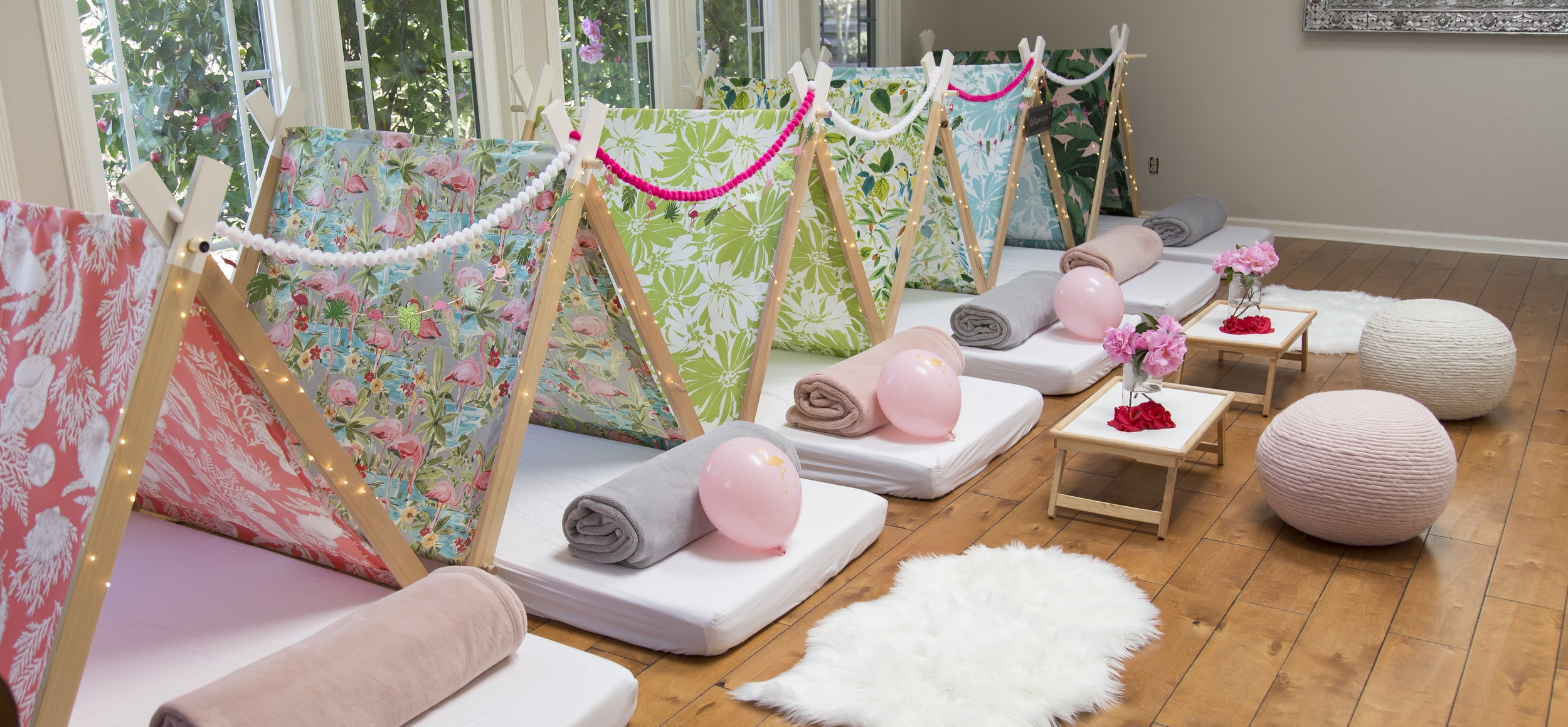 Your Imagination Is The Limit
From the shadow of the Eiffel Tower to the magic of the starry firmament on a clear summer's night, details are everything and we've got you covered from start to finish. Choose one of our pre-selected themes or chat with us about a custom theme that would create the perfect atmosphere for your party—we're always up for your creative ideas.
Springtime in Paris
Like the City of Lights itself, Springtime in Paris offers a whimsical dash of sunny sophistication and a posh ladylike design that beckons the excitement of adventures abroad.
Under The Sea
From the bottom of the sea to the touch of the sand, Under the Sea offers an invigorating splash of colorful creatures from the sea, a design that works well for any seafarer, boy or girl.
island time
With the vibrant hues of exotic flowers and warm festivity, Island Time will have party goers feeling the vibes and fresh energy of the tropical spirit in no time.
starry nights
Inspired by the magic of the firmament on a clear night, Starry Nights uses dark colors and starry accents to rocket your sleepover right into outerspace.
A Night to Remember Forever
Every LollapaSnooza package includes each child snuggling under their own colorful and unique handmade tent, cozied up on high-end mattresses and nestled in matching sheets, blankets and pillows. To top it off, we add special frills like lights and flowers, poofs and pom-poms, and provide side trays for nighttime snacks or breakfast treats. Our package includes setup and take down from start to finish—including moving furniture and returning spaces back as they were. All that will remain are the magical memories of a night that your child will never forget.
extra magical add-ons
Premium catering provided by Frenchie
Photography services provided Little Birdie Co.
Custom favors to match your party's theme
Craft kits—your choice of a pillow case or tote bag
A fun jewelry favor for the stylish tween in your life
Kimono robes—monogrammed of course!
Please be in touch for pricing and details for these extra special touches.
Package prices
(4) setups for $450
(6) setups for $600
Please contact us to learn more about our seasonal locals rate in Sonoma, or if your group requires a customized quote.
Also note that a travel fee may be applied for parties outside of the local Sonoma Valley and San Francisco areas.
Ready to make your child's slumber party dreams come true? Let's chat!